Even though I like a lot of players, each year I try to highlight one player each draft.
2019: Marquise Brown:
viewtopic.php?f=5&t=180837
2017: Isaiah Ford:
viewtopic.php?f=5&t=138337
2016: Michael Thomas:
viewtopic.php?f=5&t=115256
2015: Tyler Lockett:
viewtopic.php?f=5&t=99887
I've been sitting on a writeup of Henry Ruggs for a while. During the college season, I made up my mind that I was going to do this year's on K.J. Hamler (who I still think is great value at what I expect his ADP to be), but Ruggs is a much more fascinating case.
Let's get the most popular criticism out of the way first.
If Ruggs is such a good prospect, then why didn't he produce at Alabama?
Ruggs was the tertiary option in Alabama's offense and wasn't ready to be counted on early as a big-time contributor. I think this is the easy, lazy, and accurate answer.
Throughout his three years, he played with Calvin Ridley, Jerry Jeudy, DeVonta Smith, Jaylen Waddle, and Irv Smith Jr. This doesn't even include Josh Jacobs, Najee Harris, and Damien Harris at RB. It's normal for Alabama to be luxurious in talent, but they're concluding one of the all-time best stretches of college and pro offensive talent. The closest run I can remember is Sammy Watkins, DeAndre Hopkins, Dwayne Allen, Andre Ellington, Martavis Bryant, and Mike Williams on Clemson from 2011-2013. This is one of the most obvious examples of diluted production that we've seen.
Ruggs is not going to grade out well in advanced stats, but he's plentiful in traits and improvement that can translate to the next level.
If Ruggs was underutilized, then what evidence is there that he could've produced as the guy in college and can produce as a featured talent in the pros? He's just a speed receiver.
Pro Football Focus' attack zone heat map gives us a good idea of where Ruggs lined up last year in Alabama's offense and where most of his routes were.
Ruggs usually lined up on the outside and the right side of the field and attacked outside of the hashmarks more often than Jeudy did. This is pretty noteworthy given that Jeudy is considered by many to be the best WR in this class. The threat of Ruggs' speed and downfield ability opened up more room for a talent like Jeudy to dominate inside from the slot. 69% (nice) of Jeudy's production came in the slot. Not only that, but Ruggs was more susceptible to facing press coverage or unfavorable matchups. Still, Ruggs saw only one drop all year on his targets.
Considering that, Ruggs wasn't just used for tactical value on the field. Alabama trusted Ruggs to run just as diverse a route tree as their featured WR Jeudy:
Pro Football Focus shows us a chart that gives us a look into the percentage of targets a WR got by route over the last two seasons.

Keep in mind that if Ruggs were just a deep threat WR, then his route tree would likely lineup closer to Tee Higgins and Denzel Mims.
Why does route diversity matter? Because most (if not all) of the top WRs in the pros can beat you in multiple ways.

This is a list of PFF's top-graded WRs last year in the NFL. Outside of Mike Evans (who is just a freak of nature), it's a list full of players who can beat you in so many different ways.
Not only was Ruggs just as diverse as Jeudy, but he is one of the best in the class in terms of his route diversity. Ruggs is not going to be entering the NFL as a raw route runner, or a one-trick pony. He's going to potentially have a leg up on some of the rookies, who were pigeonholed into their usage.
This leads us into why Ruggs may become a big deal at the next level:
Elite Speed and Short Area Burst:
If you followed my thread on Marquise Brown last year, then this is very similar. Both Ruggs and Brown have an ability to turn routine plays into chunk plays. Ruggs hits top-end speed at an unreal level, and can pluck-and-run with the best of them. Here, Ruggs turns a five-yard crossing route into a crowd of 5-6 defenders, into a touchdown. Obviously, there's going to be more speed on an NFL field, but Ruggs simply has too much speed and short-area burst to be handled.
Even from behind the line of scrimmage, if you give Ruggs too much room, he has the potential to make you pay in immense ways. There simply aren't many NFL players who are capable of these types of plays.
Improved route running:
Ruggs has developed noticeably as a route runner. While he's not the technical cheat code that Jerry Jeudy is, he's improved significantly at varying his speed and playing with suddenness. A lot of scouts still want to see consistently better releases and more physical play against press, but it's hard not to be encouraged by where he's at right now.
Again, the narrative that Ruggs is just a raw deep threat, is
absolutely not true
.
(Credit to Brad Kelly for these videos)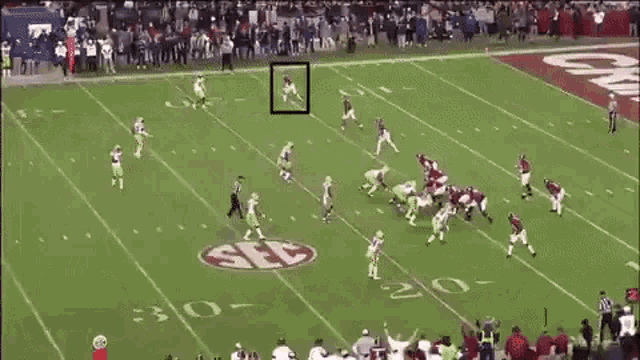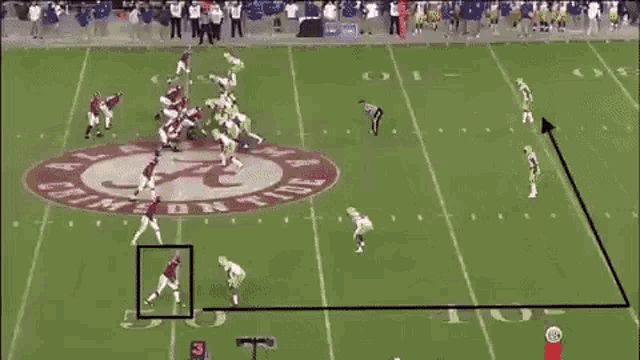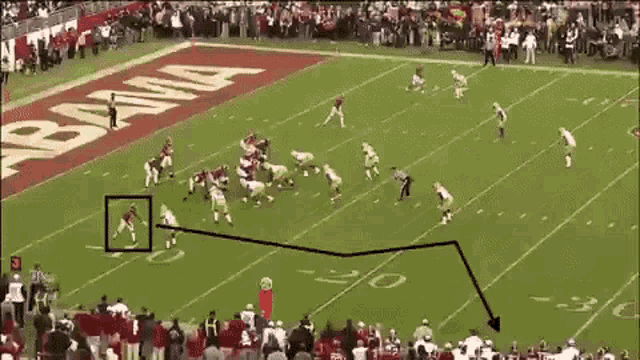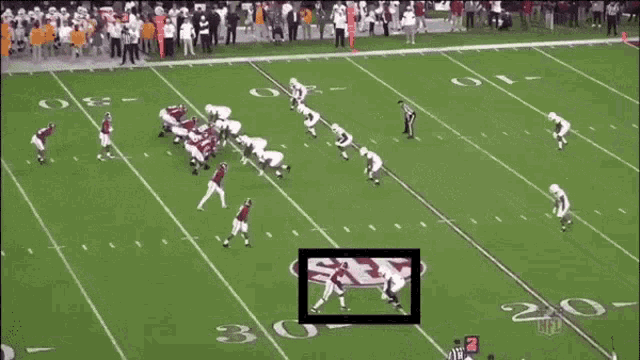 Bonus observations
- 24 touchdowns on 98 receptions, which is absolutely ridiculous. Some players just have a nose for the endzone.
- 91st percentile hand size, which is a big plus for a WR under 6'0
- Good vertical athlete, even though you don't see it enough each game. I think people want to see more plays like these where he high points. This is an interesting part of his game that I think he can unlock, though I don't see him ever being high volume at it.
Stock Rising
Matt Miller wrote:So how do we know Ruggs won't suffer the same fate as guys like Ross? That's simple. Trust the on-field results, not the hundredths of a second on a stopwatch.

Speed is Ruggs' best attribute as a receiver, of course. He was once clocked at 23.27 miles per hour in a game by wearable GPS trackers. When Ruggs catches a screen pass, defenders often immediately take two steps backward so he doesn't blow past them, creating easy yards-after-catch opportunities. And press coverage is almost never an option.

But Ruggs also has very good hands. He's a feisty, capable blocker. He has been durable through three seasons as a receiver and returner in the grueling SEC. His route running needs refinement, but he's not some guy who just traded his running shoes for cleats on Sundays.
Greg Cosell wrote:Ruggs has the dimension that every team wants: speed and vertical dimension. Ruggs is as explosive a WR as I've seen in recent years with his combination of short area burst and instant acceleration. He can line up in multiple positions and work all three levels of coverage especially effective against man coverage. The tape showed Ruggs to be more than just a speed receiver with his understanding of route running detail (although not on the same level as Jerry Jeudy)
Daniel Jeremiah wrote:I wouldn't be shocked at all if Henry Ruggs ends up being the 1st WR drafted.

Ruggs has an unbelievable blend of speed and toughness. He lines up outside and in the slot. He ran a lot of slants and take-off routes in Alabama's offense -- and he was special on both. Ruggs boasts world-class speed -- he truly explodes off the line and after the catch. He needs to continue to refine his releases against press (he gives up his chest too often), but not many defenses will want to take that chance against his speed. His hands are good, not great, and he does allow too many balls into his chest. After the catch, he runs away from most defenders while occasionally running through them. He is outstanding on jet sweeps and also has kick-return value. Overall, Ruggs has Tyreek Hill-type ability. He will be a matchup nightmare every week.
TLDR
:
I think Ruggs does have WR1 upside, though not as much as the top names in this class like Jeudy or Lamb. Hopefully he doesn't land with a miserable offensive mind like Adam Gase. I won't go as far as to call Ruggs situation-proof, but I do think he needs a coach who has a grasp on modern NFL offense. I've seen some comments on him comparing him Darrius Heyward-Bey, but DHB was really raw as a WR and put into an awful situation to develop.
Ruggs enters the league as a highly-talented, multi-level threat, with big play ability, reliable hands, and on the upswing with his route running. There's a noticeable amount of pessimism on his game, so I would definitely be interested in the range he's going to go 1.07-1.12 in this class.