Player of the Year

Posts: 2033
Joined: Wed Nov 17, 2010 9:20 pm
Location: The University of Chicago
2.03 - Cameron Newton, QB Auburn
Also considered: Kyle Rudolph, Jerrel Jernigan, Jaquizz Rodgers
DLF IDP Invitational II- '14 champ
QB: A. Luck, B. Roethlisberger, K. Cousins, D. Prescott
RB: J. Mixon, R. Penny, T. Coleman, A. Jones, G. Bernard, J. Stewart, C. Artis-Payne
WR: O. Beckham, A. Brown, J. Smith-Schuster, A. Jeffery, M. Gallup, D. Chark, M. Lee, K. Golladay
TE: J. Doyle, C. Clay, D. Goeddert
DL: M. Edwards, G. Atkins, N. Suh, L. Joseph
LB: C. Kirksey, J. Brown, K. Van Noy, R. Ragland, K. Minter, J. Ryan
DB: M. Hyde, J. Poyer, J. Adams

Team 2:
QB: P. Rivers, B. Mayfield, A. Smith, C. Keenum
RB: L. Fournette, K. Hunt, K. Johnson, J. White, C. Prosise, J. Hill,
WR: A. Green, D. Hopkins, K. Allen, D. Moncrief, P. Garcon, D. Amendola, A. Hurns, D. Cain
TE: G. Kittle, A. Seferian-Jenkins, R. Gathers, I. Thomas
---
Ring of Fame

Posts: 3279
Joined: Mon Jan 17, 2011 9:00 pm
Location: North Jersey
Pick 2.04 Kyle Rudolph, TE Notre Dame

Coming off an injury but his talent speaks for itself. He has size and good hands - most NFL ready TE in the draft.
Attachments

Kyle Rudolph.jpg (8.01 KiB) Viewed 587 times
DLF IDP Invitational
DLF IDP Invitational II
---
Player of the Year

Posts: 2112
Joined: Mon May 28, 2007 2:04 pm
Location: Dayton, OH
Contact:
2.05 - Jordan Todman, RB Connecticut
Todman's incredibly productive year for the Huskies makes him an interesting prospect. This was a tough decision for me between Todman and Jacquizz Rodgers. Right now, I still need to do some more research, so I went with more of a gut feeling. I think that come Combine time, Todman's name could be being mentioned quite a bit.
Start: 2 QB, 3 RB, 5 WR, 2 TE (All TDs=6, 1 per 10 rush/rec, 1 per 25 pass, NO PPR) 8 teams
QB: Rodgers, Vick, Cutler, Schaub, Luck
RB: Rice, CJ, McFadden, Richardson, Stewart, Ingram, Spiller, Vereen
WR: Green, Marshall, Roddy, Jennings, Roddy, Bowe, Maclin, Britt, A Brown, Williams (TB), Collie, Smith (STL)
TE: Graham, Finley, F Davis, Cook
Taxi Squad: Tebow, Crabtree, Jeffrey, Hill, Gordon
---
Administrator
Posts: 3755
Joined: Mon Jun 28, 2010 9:41 am
Location: Kansas City, MO
Contact:
2.06 - Greg Little, WR North Carolina
Little is a bit raw and comes with a little bit of a chip on his shoulder, but I love his size and ability to break tackles in the open field. He fights for the ball & uses his body well to shield the DB from the ball. I can see him being an impact player sooner rather than later if he goes to the right offense.
Also considered: Jerrel Jernigan, Taiwan Jones, Randall Cobb
On twitter? Hit me up @DLFootball
---
2.07 QB Colin Kaepernick, Nevada
Shooting up draft after awesome Senior Bowl Showing, Looks to be a high 2nd rounder, to a team like the Vikings. Senior Bowl right up: There was no doubt, even after the first day of practices, that Kaepernick was the best quarterback on the field. He threw with tremendous accuracy and power all week. And his athleticism for the position is off the charts. His only negative is an elongated release, which can be adjusted. It also would be to his benefit if he added more bulk to his wiry frame.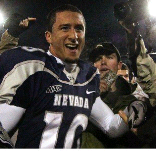 ---
Charter Member

Posts: 5116
Joined: Thu Jun 08, 2006 9:23 am
Location: Plattsburgh, NY
Contact:
2.08 Jacquizz Rodgers RB Oregon State
This is a tough spot here. I considered Ronald Johnson (who is consistently underrated), Bilal Powell and Delone Carter. Rodgers is undersized at 5'7 and 191 lbs but he plays bigger than his size. He is a consistent runner inside and outside and has enough explosiveness to make a big difference. He has the muscle mass and frame to take the punishment. I think he is going to surprise a lot of people. He reminds me of Ahmad Bradshaw a bit....
---
2.9 Jerrel Jernigan, WR (Troy)
Height: 5-9, Weight: 189 | Projected 40 time: 4.39
---
Starter

Posts: 567
Joined: Wed Oct 27, 2010 9:33 am
Ok. I'll do it. I wasn't too heartbroken when he left my Wolverines. I don't think he'd be drafted here if he hadn't. I'm taking the risk here, but hoping to hit a homerun a couple of seasons from now.
2.10 Ryan Mallet, QB - Arkansas
---
GOAT

Posts: 15249
Joined: Thu Sep 14, 2006 4:38 pm
Contact:
2.11 - Jake Locker, QB - Washington
---
2.12 Ronald Johnson WR USC
If you can't leave at least a 20% tip, you can't afford to eat out.
---
---
Who is online
Users browsing this forum: No registered users and 1 guest